Vision
The goal of Camp Noor is to encourage the development of a strong Muslim identity in our children by teaching rich Islamic history, culture, core values, and the knowledge of the Holy Qur'an.
Aims and Objectives
Our aim is to help parents raise God-conscious children who follow the path of the Ahlul Bayt (A) in their daily lives.
History
Camp Noor, formerly known as Zainabia Sunday School, began 20 years ago as the first weekend Islamic school in Atlanta. Since its inception, Camp Noor has been a leader in child-focused programming such as seasonal camps and youth majalis in the greater Atlanta area. Camp Noor raises funds for and participates in the annual Hunger Walk to support Atlanta Community Food Bank as well as Muharram, Arbaeen, and Eid Drives to support the vast refugee community in Clarkston.
2017 – Camp Noor launched Toddler Program to provide play-based learning for children ages 1-3
2019 – Camp Noor launched Kalam Club, a forum scaffolded by the Alim Shaykh Azhar for middle and high school students to critically debate and analyze matters relevant to their lives
Structure
Alim – Shaykh Azhar Sheraze
Head of School – Urooj Zaidi
Qur'an Coordinator – Shireen Momin
Islamic Studies Coordinator – Ruba Raza
Faculty Coordinator – Sahar Lakhani
Student Affairs – Rida Fatima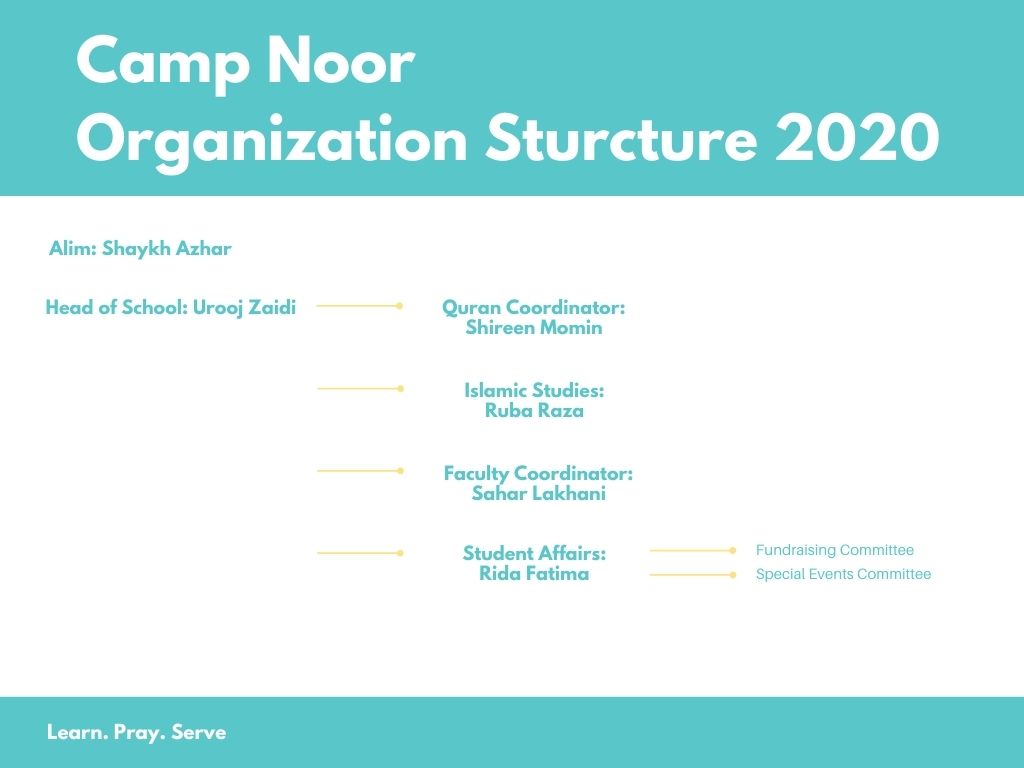 Future Plans
To strengthen the Qur'an and Islamic Studies curricula.
Expand Kalam Club to youth community-wide
Challenges
Keeping the older youth engaged as they have competing school commitments.