Vision
At Hyderi Madressa our vision is to create a happy, caring and enriching learning environment where children learn the formal tenets of Islam as well as nurture their spiritual growth and refine their moral characters so that they may grow to be (exemplary role models/reach their full potential / become practicing Muslim) and positive members of the community and society at large.
Aims and Objectives
We aim to achieve this by:
• Making Madressa a place where every child feels valued, secure and happy
• Nurturing the intellectual, spiritual and personal growth of all pupils.
• Providing stimulating, inclusive and interactive lessons where positive learning takes place
• Inspiring in students a lifelong passion for gaining knowledge and applying it
• Promoting relationships based upon respect, tolerance and understanding throughout the Madressa
• Fostering a genuine love and knowledge of the Holy Quran and Ahlulbayt
• Developing children's love and understanding of Islam through high quality teaching and the practical application of moral values and ethics
• Equipping children with the knowledge, independence, confidence and resilience to deal with life in a positive and productive way and practice their faith in the modern and diverse society
• Building links with the parents and the Jamaat to extend the learning and growth of all pupils
• Supporting staff to continuously grow and reach their full potential through improved communication, management and a structured programme of continued professional development.
History
HIS has a 40+ year history. With 4 Alim-e-Deen amongst our Alumni.
Currently the school has almost 500 students with over 90 volunteer week-in week-out every Saturday for approximately 35-36 Saturdays a year.
Hyderi Islamic School is open to the whole community, with:
– Modern, well-resourced school with spacious facilities.
– Reputation for excellence in teaching and achievement.
– The first Madrassah in Britain to implement both the GCSE's and A' level programme in Islamic Studies.
– We aim to provide a complete education system, within an Islamic curriculum covering a range of subjects.
– We offer course for mature community members on Tarbiyah, Qur'anic Studies, and Arabic.
– The minimum starting age is 4 years old.
– The curriculum is taught within a caring and supportive environment where care and extra individual attention is given to those who may need extra consideration.
– The school is open on Saturdays from 9:30 am to 2:00 pm.
Structure
We are divided into 3 core sections:
– Risk Management
– Operations
– Administration
Risk Management includes: Safeguarding, Policy Compliance, First Aid and Fire Safety
Operations includes: Teaching staff and section heads, Behaviour management, Attendance, Canteen & Parking
Administration includes: IT, Resources, Registration, Communication, Finance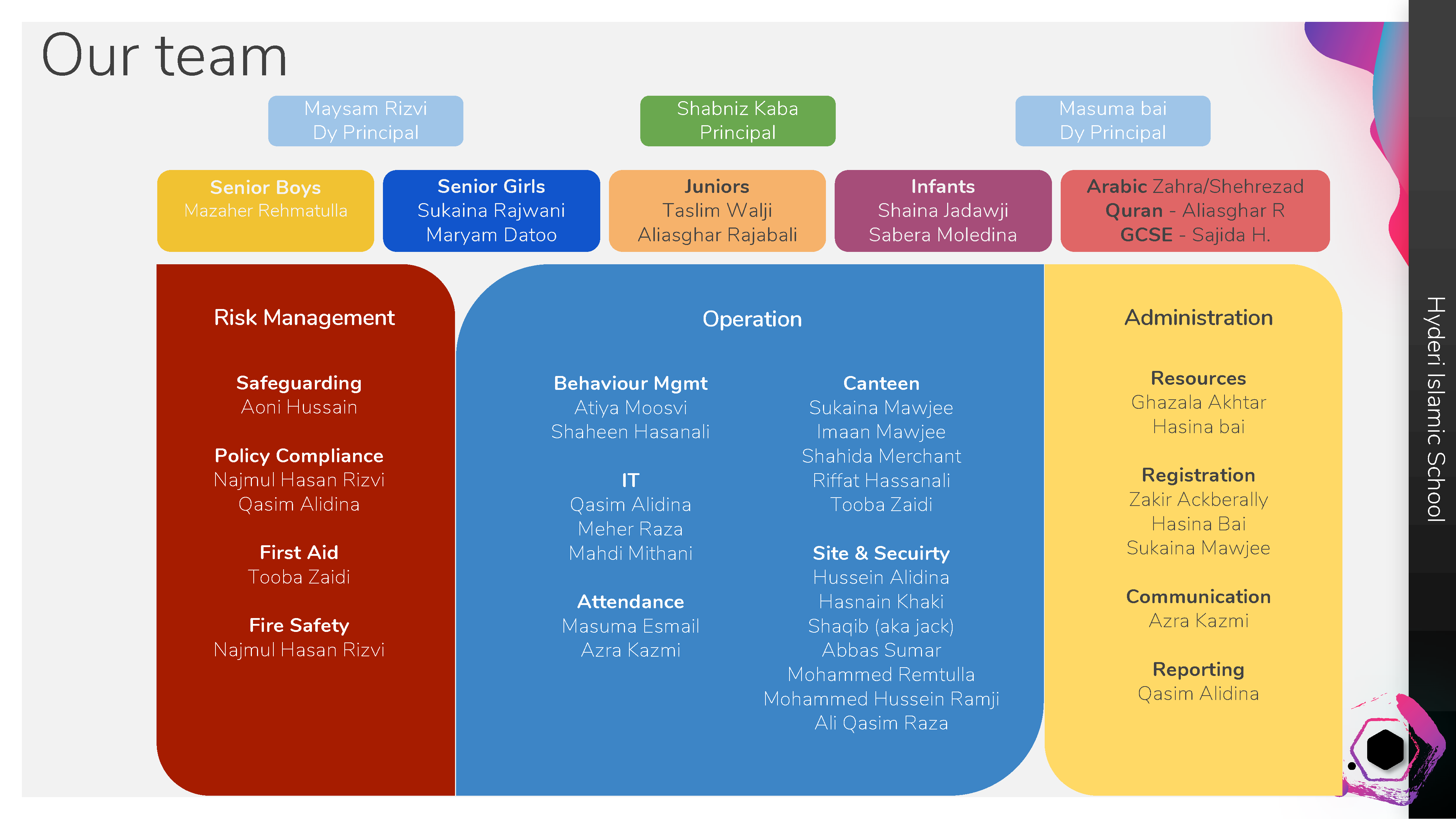 Future Plans
Plans for the future of the Madrasah include:
– Living Islam – HIS has already introduced a number of ways students can live Islam (Ramadan Quran Quiz, Eid charity support etc.) and we are exploring further methods to 'live Islam' such as acknowledging positive Islamic behaviours.
– Digitising engagement and improving how students are engaged during and outside of Madrasah, HIS has already rolled out a digital system for registration, attendance and reporting. We are currently reviewing digitising resources and classroom/home engagement.
– Teacher training and continuous improvement. We continuously invest in improving our teacher's standards. We plan to become more strategic in developing and delivering this through teacher debriefs, strategic deployment of training programs on relevant topics.
– Increase the number of students Hyderi can support – With almost 500 students Hyderi is operating at capacity. We are looking to increase the number of trained volunteers to increase our ability to support more students.
– Improve our Special Education Needs program – Hyderi SEN is a well developed and supported program, it has come under strain recently due to increase in students with SE needs. We are looking to expand this program.
– Development of Student Leadership programs – We are currently looking at various ways to engage our senior students and inculcate leadership qualities through various programs.
– Volunteer recognition program – We are reviewing ways to recognise volunteers at the Madrasah, one way to explore this is to provide evidence of experience from the Madrasah for their efforts in the form of certification or reference letters.
Challenges
Current challenges include:
– Book management: This is a big challenge especially for Infants as we don't have enough storage space to manage them on site
– Volunteers: As we reach capacity we are being stretched and are currently recruiting more volunteers to support HIS
– Digitisation: This is the future for our Madrasah but we find the pace of change to be slow (both due to resources and ability of staff to take up new technology).