Vision
Learn, Love, Live
At Madressa we are here to learn and we wish to inspire life long learning for all  who walk through our doors. As we are learning about our faith we aim to inspire and foster within us love for Allah and His creation. We will have truly learnt the message of Islam once we have found a way to live it because Islam is practical and can be put into action at every moment in our lives. Therefore we say that the vision for our Madressa is that it will be our institution where we learn Islam, nurture our love for Islam and because of this we will live Islam.
Aims and Objectives
We stand together to build an inclusive and peaceful learning environment, inspired by the Qur'an & Ahlul Bayt (as), enabling spiritual growth.
Our Madressa values are:
– Respect
– Servitude
– Gratitude
– Integrity
History
On 13th January 1985, the Hujjat Stanmore Jamaat first opened the doors of the Shia Ithna'asheri Madressa. Its main aim was to meet the growing religious needs of the children of our community. The Sunday classes were held at the newly-acquired Huseini Shia Islamic Centre in Stanmore, and consisted of a mere five classes and 60 students learning an elementary syllabus. Yet, in under a month the number of students had swelled to over a hundred, and within a year there were 15 classes and 262 students on register, and an established syllabus had been put into place.
As the Madressa grew, so did the efficiency with which it ran. In 1987 the Madressa began the process of computerising administrative data, and took the important decision to become a self-financing body with the introduction of a voluntary tuition fee. The Madressa teaching syllabus also underwent a comprehensive revision in the taught subjects of Tareekh, Fiqh, Akhlaq and Holy Qur'an, which still remain at the core of the Madressa system today. Arabic & Farsi have since been introduced as a fifth subject along with adult education classes, special needs and learning support classes.
By 1988, the Madressa had grown to 380 students and moved to occupy larger premises at Park High School in Harrow. In the next few years, there was a increase in the size of the community taking Madressa to a peak of 500 students.
The 1990s heralded the growth of the Madressa on new fronts, both within the educational structure and in extra-curricular activities. The Madressa introduced teacher training workshops and awareness seminars to improve teaching and communication skills. Not only were these new pursuits of educational value, but also promoted community participation in many extra-curricular activities. These included annual sports days, summer camps, and annual activity trips.
In 1998, the Madressa was able to return to the renovated Husseini Islamic Centre in Stanmore, and occupied all the available classroom space at the Centre each Sunday.
In 2012 the Madressa partly moved from the community centre to Kenmore Park School where the younger children were accommodated within a primary school environment. Alhamdulillah the transition was successful thanks to the hard work of all volunteers and the newly created head of Juniors. The Madressa had some 300+ students at the school as well as a further 4-500 students at Stanmore and had almost 125 volunteers.
In 2017 and 2018 the Madressa embarked on two fundamental shifts in order to set a new direction and standard for community education. In 2017 it moved to Northwood School and consolidated the whole Madressa on to one site and opened up the extensive facilities to all community bodies with great success. In 2018 it then transitioned onto the Tarbiyah Curriculum produced by the WF Madrasah Centre of Excellence. At this stage the Madressa had 800-850 students and almost 200 volunteers that were committing weekly to deliver various lessons and activities to our community children.
Structure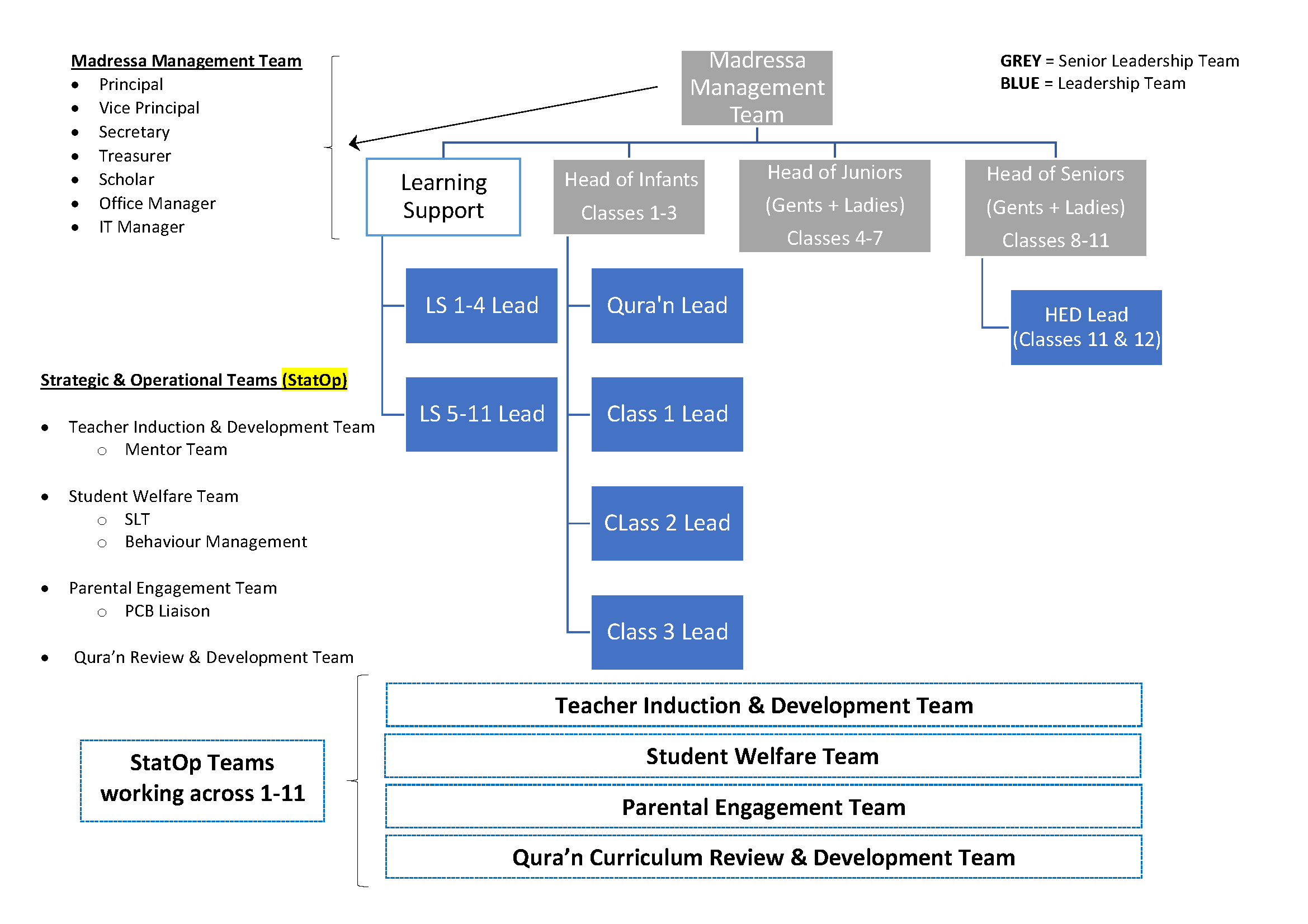 Future Plans
The Madressa has been built on a solid foundation and has always received the utmost and whole hearted support of our community.
Going forward, the Madressa wishes to continue to train its staff in the latest teaching methodologies alongside providing in house support from professional staff. The Madressa recognises that possibly the largest contributing factor to the learning and development of our children whilst on site is our teachers.
Of course, we recognise that the overall, the individuals who can make the greatest impact on the upbringing and nurturing of a child is their primary teachers – their parents and so we will seek to engage and facilitate learning opportunities for parents in as far as possible to involve them in the learning journey of their child at Madressa.
Our students are of course the centre of our focus and with that in mind it is important we develop a robust student welfare platform to assist them in managing relationships, developing their communication abilities and providing support when they are facing difficult circumstances within and outside Madressa.
These three areas will continue to be our primary areas of focus over the next three years.
Challenges
Living in a secular society and now generally a second or even third generation migrant community, we struggle with similar issues that are faced by people of other faiths such as:
Compartmentalisation of religion and the increasing perspective of religion being confined to personal, private worship as opposed to the holistic message of Islam being a communal or societal force for positive change. Our students manifest this by differentiating their behaviours to suit what they believe to be expected from them in each environment.
The difficult economic situation faced by the majority of individuals means that more than ever, there are 2 parent working families and parents who are working weekends. Furthermore, the competing demands for secular educational excellence and extra curricular activities all impacts our students by affecting their Madressa learning.
New influences and challenges in the religious domain have also impacted both teachers and students. Where we were perhaps one tight knit community in north London, we are now a large, more loosely knit and perhaps more diverse community. Recent issues such as the importance of Taqlid, issues and difference with AMI in Birmingham all have an impact on the learnings we impart to our students and the perspectives of our staff on different issues.
Teaching resources remain a consistent issues on an annual basis at Madressa. Staff of varying degrees of experience leave for various reasons whilst the recruitment timescales for new staff can be quite long and with increasing class sizes we always require more staff to assist in managing classrooms.