Since 2019, MCE has been running a highly effective training programme that is vital for the development of Madrasah teachers: The Spiritual Development Programme (SDP)
The SDP combines modern interactive teaching methods with classical Islamic scholarship to offer Madrasah teachers practical advice on how they can enhance their spirituality and have a more positive impact on the children they teach.
The programme is based on the teachings of the Qur'an and the Ahl al-Bayt (a), and many parts of it can be found in the works of leading scholars of Islamic Ethics. The course is not intended to be a purely cognitive exercise but rather a catalyst for self-improvement through action.
Watch the video here for more information:
The SDP helps Madrasah teachers become better role models and promotes spirituality in the classroom through a variety of engaging, thought-provoking methods.
To date, four SDPs have been conducted: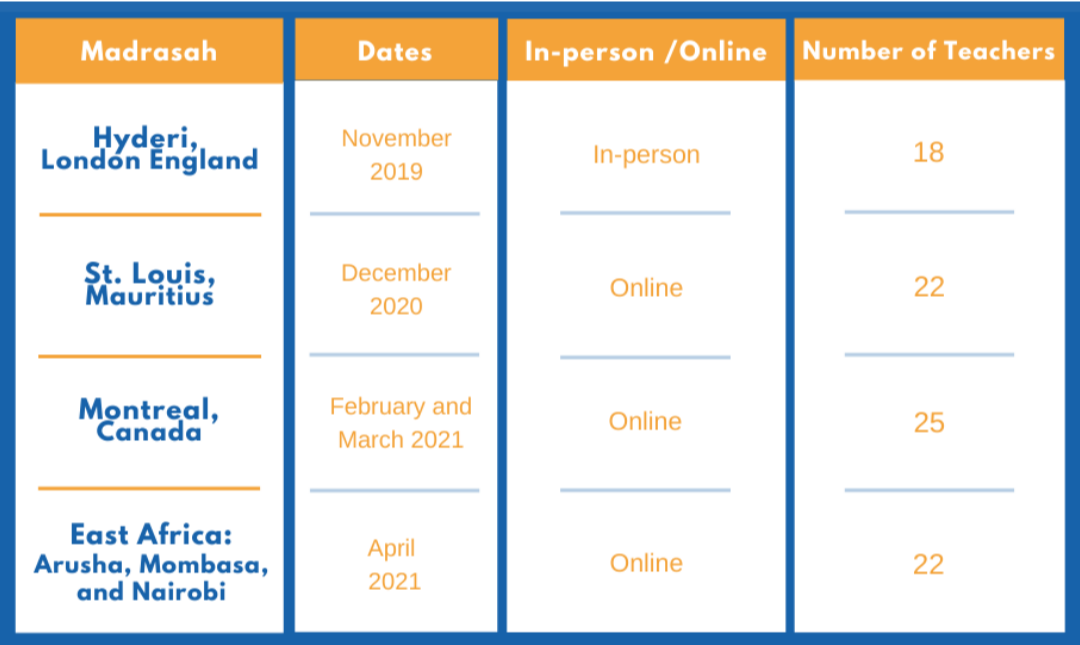 The SDP is delivered over one weekend. Participants also receive a comprehensive, originally written manual and workbook free of charge.
Feedback from the four SDPs has been consistently positive. Here are some of the comments from the participants:
Meeting Expectations
"It exceeded my expectations."
"There are so many things that I knew about but did not know how to apply in my life. These sessions have shown me practical ways to do this."
Teaching Methods
"I have never done anything like this. A great way of learning different aspects to our religion."
"Alhamdulillah it was delivered very well. The good thing was we were able to question on any issue to the sheikh. And he patiently answered them."
Interaction and Engagement
"I loved how interactive it was and all the different activities."
"Very engaging; helped us to share our thoughts and ideas."
Manual and Workbook
"Very well written. Making a colourful manual helped to keep us focused."
"The workbook made me reflect on my actions, and I guess taught me ways I can incorporate the Quran in my classes."
To book your Madrasah's SDP training or for further information, please email [email protected].