Our madrasah teachers attend a number of world-class training programmes that provide them with a range of skills to motivate, create and inspire their students.
It has been recognised that teachers feel they need the support and resources to be effective in the classrooms to maintain the attention of latest generation, who have grown up with information literally at their fingertips through smartphones and tablets.
Our training programmes look at finding the right balance between traditional and modern ways of teaching, whilst delivering the Tarbiyah Curriculum in an engaging and exciting manner. This helps with increasing teacher retention and positively impacting student satisfaction.  Read on to find out more! 
Our Teacher Skills Programme (TSP) provides teachers with practical skills, tools and resources that follow current teaching techniques to bridge the gap between schools and madrasah. Teachers are taught to focus on the learning process, which is centred around each individual child.


The MCE Team in partnership with Africa Federation AFTAB Board and Dar es Salaam Tableegh Board, recently held the first ever Teacher Skills Programme Masterclass in Dar es Salaam, Alhamdulillah.
Led by Head TSP facilitator, Sayyed Ali Naqvi, the course saw 120 like-minded teachers from Dar es Salaam attend the masterclass, keen to learn more about useful tips and tools to manage their class, as well how to provide practical ways of connecting Islam to a child's daily life.

Alhaj Anwarali Dharamsi, President of The World Federation, together with Alhaj Aunali Khalfan, Vice Chairman of Africa Federation, attended the presentation ceremony of the masterclass and gave an enlightening presentation about MCE and spoke about the fantastic achievements we've made since starting in 2012.
Our inspiring TSP facilitators are able to draw out feelings and opinions from our madrasah teachers. In doing so, they find themselves nurtured in this student-centred approach and experience the difference this makes, which motivates them repeat the experience with their students.
What do our teachers think?
"Yesterday was the first day back to madrasah after the programme. My class was totally engaged as I used multiple learning styles. The students took turns to scribe and present and the class was vibrant and dynamic!" – Madrasah Teacher
"It (TSP) gave me a point to reflect on where my personal shortcomings were, realising them made me want to go ahead to improve them so they don't stand as a barrier between me and the one across."- Madarash Teacher
"I had Qur'an teachers asking for pipe cleaners and I saw others using flip charts to engage the kids. So, tools from the training were much appreciated and are definitely being implemented." – Madrasah Head Teacher
Testimonial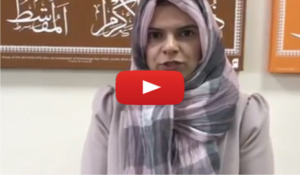 This madrasah teacher shares her personal highlights of the TSP.
You can watch this video here.
Our teachers demonstrate role-modelling morality and ethical behaviour, treating people with kindness and respect in every lesson and we know that young people learn more by what they see, hear and do than by what they read.
Madrasah can provide valuable lessons about to living an ethical and Islamic life. When children, young people and teachers are facilitated through programmes like TSP to enjoy learning – they grow together. As one teacher says: "This is Islam. It's a system of your daily life, not something that is different and done on Saturdays".